Administrative
Staff member
Staff
VIP
Lifetime
Description of Indicator:

This measures the day's open / close vs then high lows of the day (range)
When the open /close is less than 20% of the range, then it's likely that the following day will have a big jump.
The Thought Process is Simply When (Open - Close) is Less Than 20% Of The Range…Shows Indecision and Breakout is Probable.
Which way? Use whatever indicator you want to figure out if the market is oversold or overbought.
You should use this indicator on the daily chart. A pink candle represent a "blast off" candle. Expect a big move the next day. For day traders, you can also use this on the lower timeframes to look for indecision candles.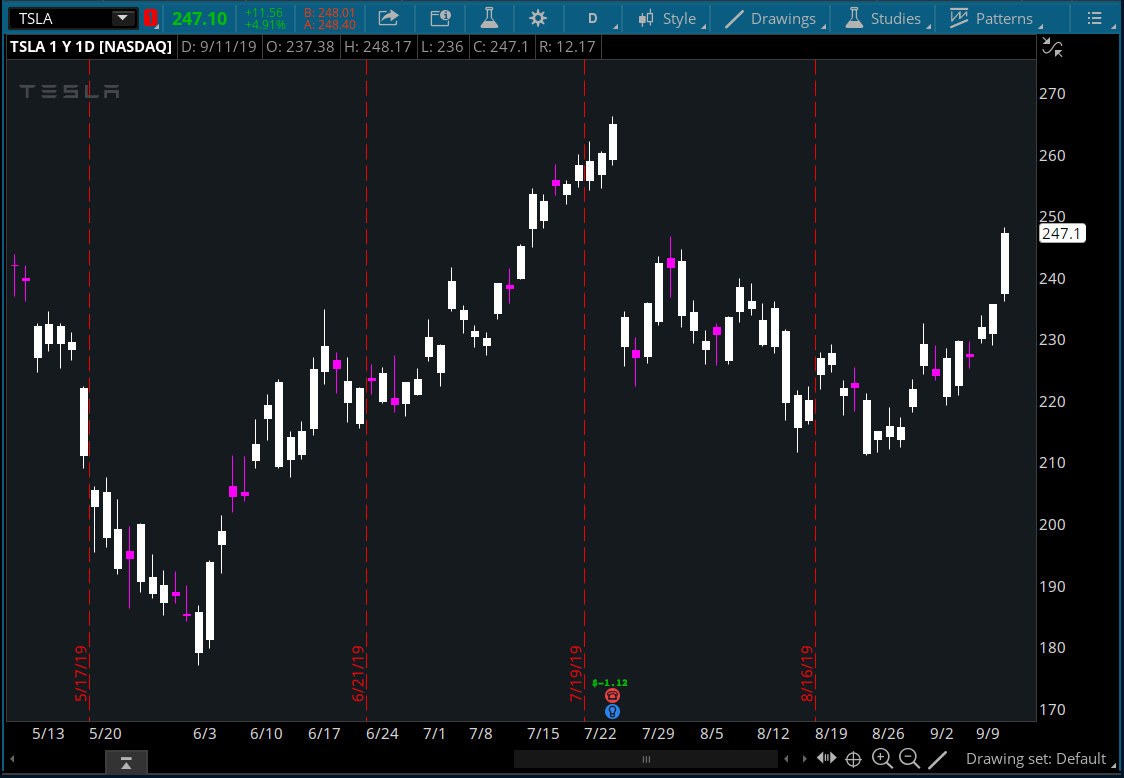 thinkScript Code
reference this one in the Scan Hacker
Code:
# Blast Off Indicator
# Should use on the Daily chart
# Assembled by BenTen at useThinkScript.com
# Converted from https://www.tradingview.com/script/V9Mi6eOO-CM-Blast-Off-V1-Alerts-Ready/

input trig = 20;
input paintbar = yes;

def val = absValue(close - open);
def range = high - low;
def blastOffVal = (val / range) * 100;
def trigger = trig;
def alert1 = blastOffVal < trig;
def col = blastOffVal < trig;

assignPriceColor(if paintbar and blastOffVal<trig then Color.MAGENTA else Color.Current);

# Plot Arrow
plot arrow = col;
arrow.SetPaintingStrategy(PaintingStrategy.BOOLEAN_ARROW_UP);
arrow.SetDefaultColor(Color.CYAN);
arrow.SetLineWeight(1);
Shareable Link:
https://tos.mx/3DOXHdO
Fancy Version
As suggested by
@john3
Code:
# Blast Off Indicator
# Should use on the Daily chart
# Assembled by BenTen at useThinkScript.com
# Converted from https://www.tradingview.com/script/V9Mi6eOO-CM-Blast-Off-V1-Alerts-Ready/

# Modified version: added line to high and low of blast off candle.

input trig = 20;

def val = absValue(close - open);
def range = high - low;
def blastOffVal = (val / range) * 100;
def trigger = trig;
def alert1 = blastOffVal < trig;
def col = blastOffVal < trig;

def blast_candle = blastOffVal < trig;

def b_high = if blast_candle then high else b_high[1];
def b_low = if blast_candle then low  else b_low[1];

plot hh = b_high;
plot ll = b_low;

hh.SetPaintingStrategy(PaintingStrategy.HORIZONTAL);
ll.SetPaintingStrategy(PaintingStrategy.HORIZONTAL);
hh.SetDefaultColor(Color.YELLOW);
ll.SetDefaultColor(Color.YELLOW);

assignPriceColor(if blastOffVal<trig then Color.MAGENTA else Color.WHITE);
Last edited by a moderator: