This study shows the up and down volume based on a bar's open versus closing price. It resets the counter based on a specified time of day. One could modify this code to reset the counter on a given weekday, once a month, etc. Adding an option for this as input may be a future enhancement, or perhaps someone else on this forum wants to add that.
If close is greater than open, add volume to upVolume.
If close is less than open, add volume to dnVolume.
If close is equal to open, add 1/2 volume to upVolume and dnVolume.
You can set a "mode" to display upVolume and dnVolume as "lines", or as a difference as a histogram.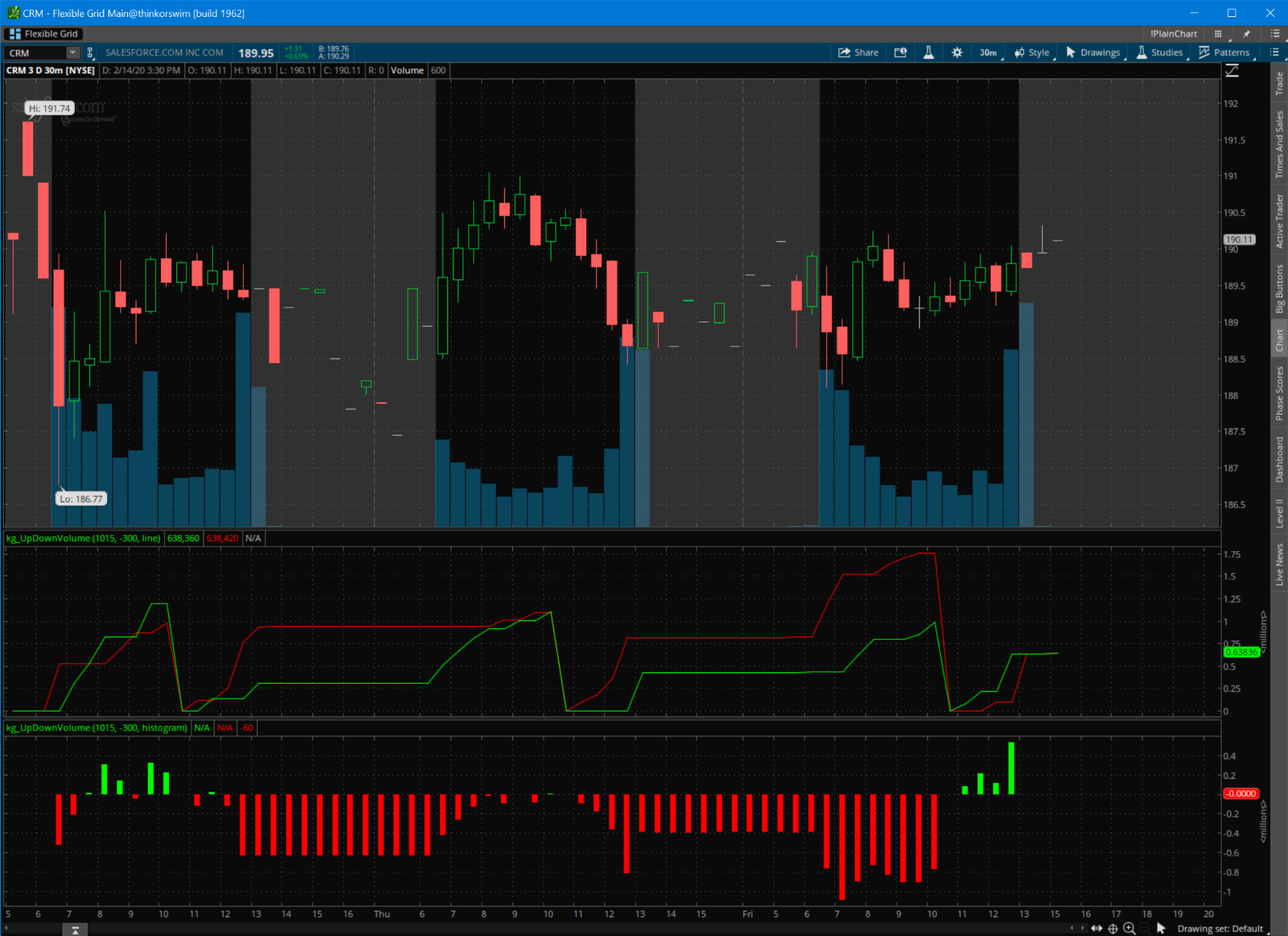 Here is the code and a link to use in ThinkOrSwim that you can copy/paste into Setup | Open Shared Item.
CODE
Code:
#
# UpDownVolume
#
# Study to indicate volume on up and down bars.
#
# Author: Kory Gill, @korygill
#
# VERSION HISTORY (sortable date and time (your local time is fine), and your initials
# 20200216-1500-KG    - created
# ...
# ...
#

declare lower;
declare once_per_bar;

input startTime = 1015;
input timeOffsetFromEST = -300; #hint timeOffsetFromEST: 24-hour time offset from EST (-300 for PST)
input mode = {default line, histogram};

def nan = double.NaN;
def bn = BarNumber();
def vOpen = open;
def vClose = close;
def vVolume = volume;

def upVolume;
def dnVolume;
def sft = SecondsFromTime(startTime - timeOffsetFromEST);

def resetCounter = if (sft == 0
                       or
                       (sft[1] < 0 and sft > 0)
                      )
                      then 1
                      else 0;

if (bn == 1 or resetCounter)
{
    upVolume = 0;
    dnVolume = 0;
}
else if (vClose > vOpen)
{
    upVolume = upVolume[1] + volume;
    dnVolume = dnVolume[1];
}
else if (vClose < vOpen)
{
    upVolume = upVolume[1];
    dnVolume = dnVolume[1] + volume;
}
else
{
    upVolume = upVolume[1] + volume / 2;
    dnVolume = dnVolume[1] + volume / 2;
}

plot pUpVolume = if (mode == mode.line) then upVolume else nan;
plot pDnVolume = if (mode == mode.line) then dnVolume else nan;;
pUpVolume.SetDefaultColor(Color.Green);
pDnVolume.SetDefaultColor(Color.Red);

def diffVolume = upVolume - dnVolume;
plot pHistogram = if (mode == mode.histogram) then diffVolume else nan;
#pHistogram.SetChartType(ChartType.BAR);
pHistogram.SetPaintingStrategy(PaintingStrategy.HISTOGRAM);
phistogram.AssignValueColor(if diffVolume < 0 then Color.Red else Color.Green);

# end of UpDownVolume
Link to use in ThinkOrSwim that you can copy/paste into Setup | Open Shared Item
UpDownVolume_v202002161500 @ https://tos.mx/kPD4coK
Enjoy,
Kory Gill,
@korygill
Last edited by a moderator: