Administrative
Staff member
Staff
VIP
Lifetime
This indicator uses pure price action and volume to identify when a trend is near exhaustion. It can be used as a warning sign for a potential reversal.
When Bulls are Exhausted: Volume is decreasing while the price continues to increase. We suspect that the move up is being driven by retail traders.
When Bears are Exhausted: Price is going down while volume is also decreasing. Could be a sign of trend exhaustion.
You can use this for intraday trading or on the higher timeframe to spot an exhausted trading trend. You can also use the ThinkorSwim's StockHacker to scan for bearish and bullish signals.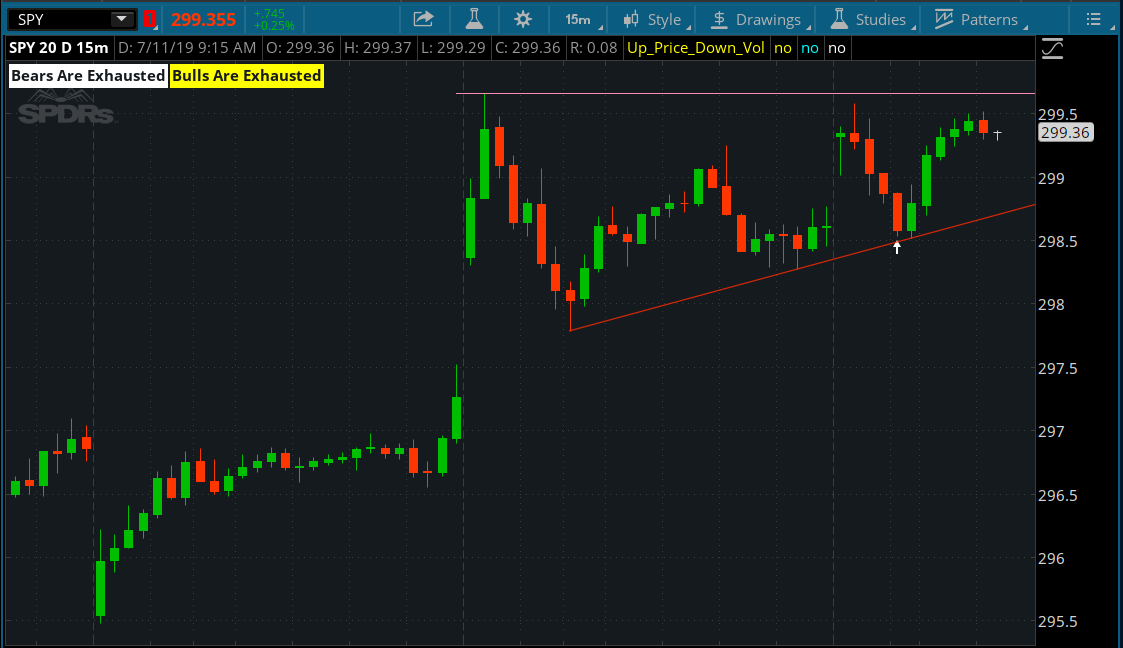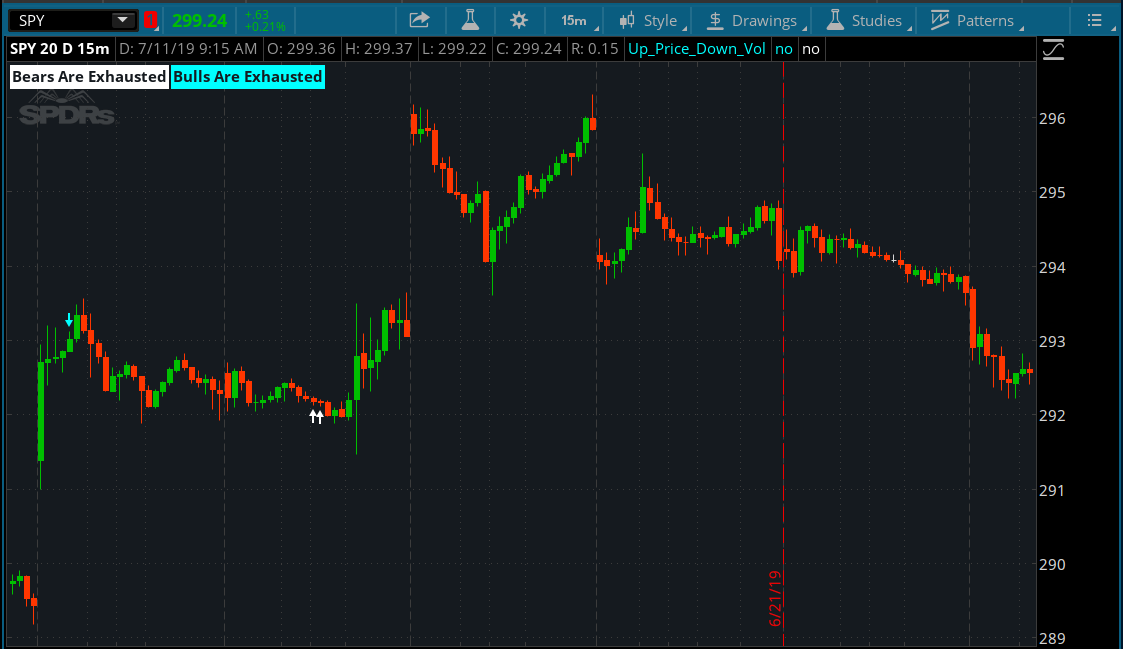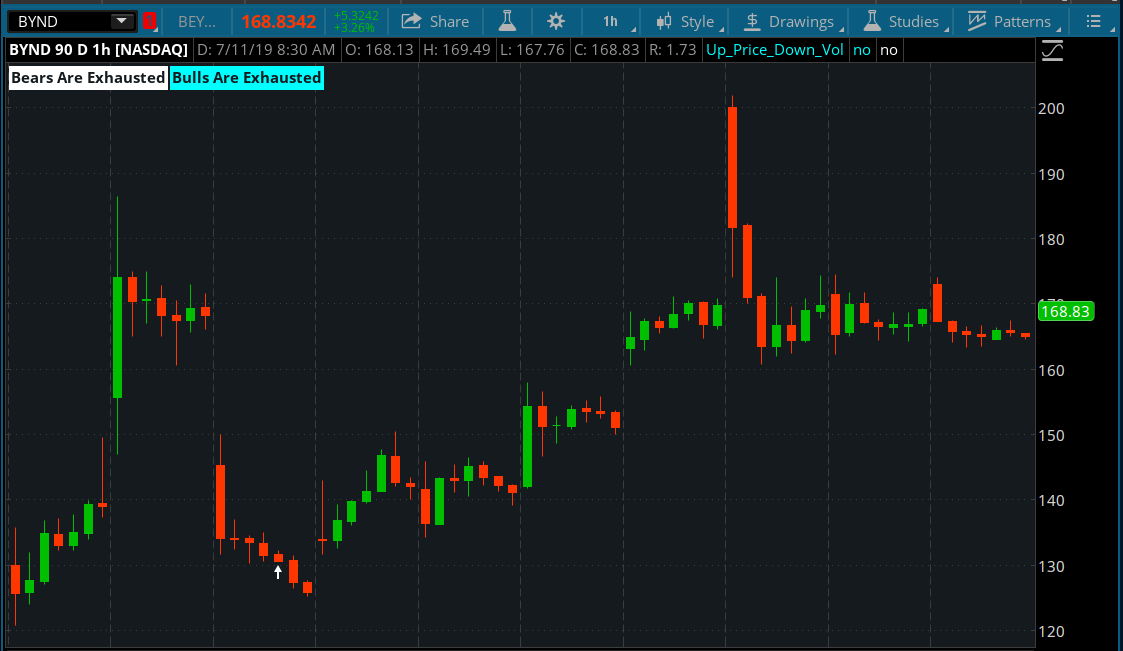 thinkScript Code
Code:
# Trend Exhaustion Indicator for ThinkorSwim
# Assembled by BenTen at useThinkScript.com

# Bearish
def bearish = (CLOSE > CLOSE[1] AND CLOSE [1] > CLOSE [2] AND CLOSE [2] > CLOSE [3] AND CLOSE [3] > CLOSE [4] AND VOLUMEAVG(LENGTH = 20) < VOLUMEAVG(LENGTH = 20)[1] AND VOLUMEAVG(LENGTH = 20)[1] < VOLUMEAVG(LENGTH = 20)[2] AND VOLUMEAVG(LENGTH = 20)[2] < VOLUMEAVG(LENGTH = 20)[3] and VOLUMEAVG(LENGTH = 20)[3] < VOLUMEAVG(LENGTH = 20)[4]);
plot bear = bearish;
bear.AssignValueColor(Color.CYAN);
bear.SetPaintingStrategy(PaintingStrategy.BOOLEAN_ARROW_DOWN);

# Bullish
def bullish = (CLOSE < CLOSE[1] AND CLOSE [1] < CLOSE [2] AND CLOSE [2] < CLOSE [3] AND CLOSE [3] < CLOSE [4] AND VOLUMEAVG(LENGTH = 20) < VOLUMEAVG(LENGTH = 20)[1] AND VOLUMEAVG(LENGTH = 20)[1] < VOLUMEAVG(LENGTH = 20)[2] AND VOLUMEAVG(LENGTH = 20)[2] < VOLUMEAVG(LENGTH = 20)[3] and VOLUMEAVG(LENGTH = 20)[3] < VOLUMEAVG(LENGTH = 20)[4]);
plot bull = bullish;
bull.AssignValueColor(Color.WHITE);
bull.SetPaintingStrategy(PaintingStrategy.BOOLEAN_ARROW_UP);

AddLabel(yes,"Bears Are Exhausted",color.WHITE);
AddLabel(yes,"Bulls Are Exhausted",color.CYAN);

# Alerts
Alert(bullish, " ", Alert.Bar, Sound.Chimes);
Alert(bearish, " ", Alert.Bar, Sound.Bell);
Shareable Link
https://tos.mx/RBR6Kp
Last edited: