Administrative
Staff member
Staff
VIP
Lifetime
Mobius Volume Waves
found it on
JohnnyQuotron's OneNote
Mobius's description:
A very simple Volume study based on accumulation or distribution. AKA Volume Waves.
After
much
research, I conclude there is no syntax that will give CONSISTENT results when:
creating alerts
scanning
painting candles
This is due to the multiple levels of recursion built-into the definition of the waves.
The Volume Waves study was created to give a clear visual representation of how volume is driving price action.
To looking for the flip between buying pressure and selling pressure, this is not the correct tool.
These threads provide many variations for determining that:
https://usethinkscript.com/threads/volume-buy-sell-indicator-with-hot-percent-for-thinkorswim.389/
https://usethinkscript.com/threads/...essure-indicator-labels-for-thinkorswim.8466/
Shared Chart Link: http://tos.mx/KwtZ8zY Click here for --> Easiest way to load shared links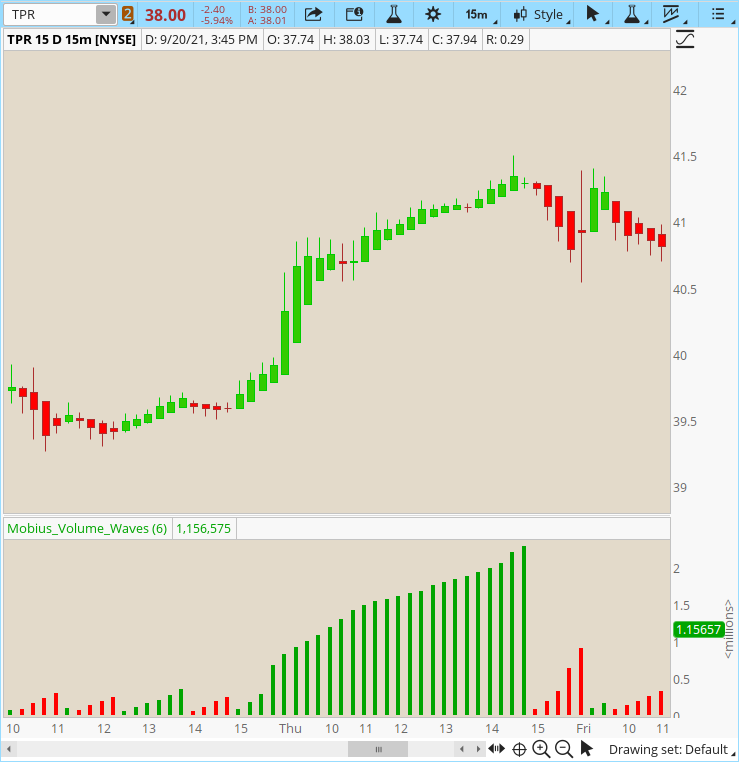 Chart:
Ruby:
# Mobius Volume Wave
# V01.2020
# Plots Volume Waves based on trend.

declare lower;

input n = 6;

DefineGlobalColor("LabelGreen",  CreateColor(0, 165, 0)) ;
def v = volume;
def accumulation = isAscending(HL2, n);
def distribution = isDescending(HL2, n);

def w = if accumulation and !accumulation[1]
        then v
        else if distribution and !distribution[1]
        then v
        else w[1] + v;
plot waves = w;
     waves.SetPaintingStrategy(PaintingStrategy.Histogram);
     waves.AssignValueColor(if accumulation
                            then GlobalColor("LabelGreen")
                            else if distribution
                            then color.red
                            else color.yellow);
# End Code Mobius Volume Waves
Last edited: