Administrative
Staff member
Staff
VIP
Lifetime
For those unfamiliar, I started a $1k Challenge in
our Discord trading chatroom
late last week (Jan. 2nd). The purpose of this challenge is to build a small account while learning about risk management, charting, and helping each other grow as a trader.
Currently, we have about 6 people competing in the challenge including myself. You can check out our spreadsheet
here
. Also,
check out Steve's learning log
as well. He has been doing a great job at logging and analyzing his trades.
This post will include some updates about what I traded since the challenge started up until today. And what I learned.
The following tickers were traded:
AMZN
SPY
NFLX
NVDA
SPX
AAPL
TSLA
GOOGL
As you can see, quite tech heavy.
I have to say since the challenge started, I have invested a lot of time into learning. This includes finding new indicators that will be beneficial to my trading style, reading about different chart setup, learning about MACD divergence, and more.
All are recommended to any traders, not just people who trade options.
How Much Did I Make This Week?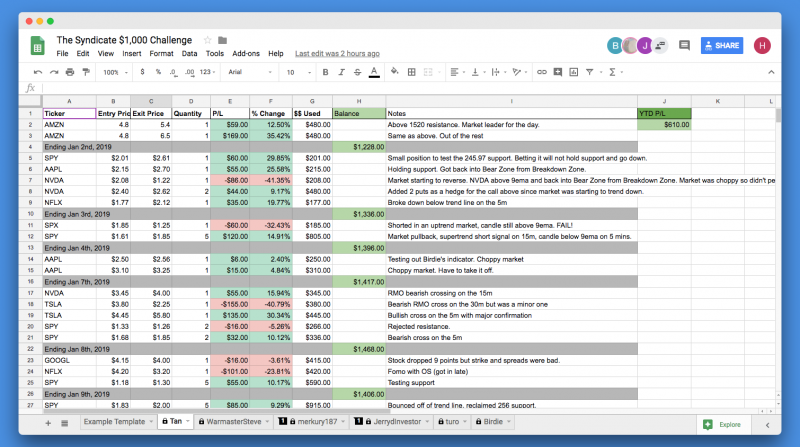 In a total of 8 trading days, I initiated 24 trades. All of which netted me $610. So for the first week, I'm up about $600.
Current Trading Setup
One of the biggest things I learned from doing this challenge is that
less is more
. Seriously! I often find myself digging through tons of websites to find indicators that will help me trade better. At one point I had about 10 indicators in one setup. This wasn't good at all.
I had to take a step back and evaluate my trading style and setup. I figured, let's stick to what works. And what ended up working for me was quite simple and straight to the point.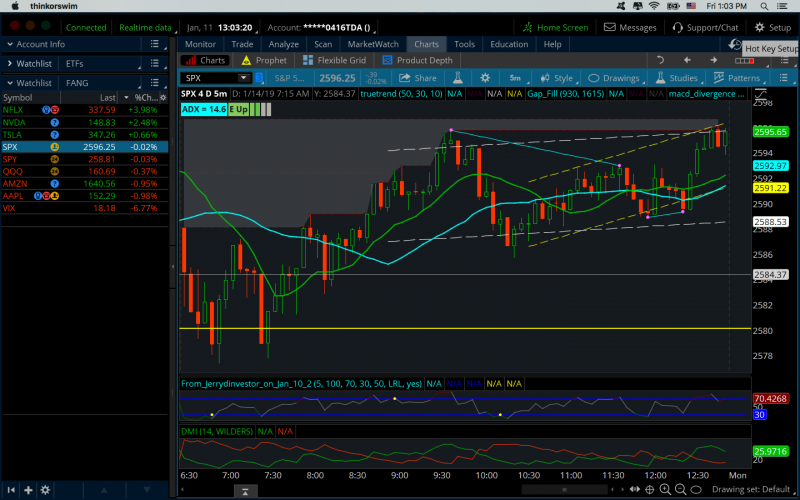 Indicators I'm using:
Hand-drawn Support / Resistance (1h, 4h, and daily). I also use shorter timeframe and pre-market data.
Gap Fill (it's an indicator that shows potential gap fill)
RSI
DMI
Simple Moving Average (14 and 30)
I'm open to sharing my existing setup on ThinkorSwim. Just let me know and I can send it to you.
I'll be posting specific charts from some of the trades I took throughout the first week below. Stay tuned!
Last edited: