Administrative
Staff member
Staff
VIP
Lifetime
The first options trading challenge (ever since we created
our Discord chatroom
) has come to an end and I'd like to give a big shoutout to everyone who participated in the event. It was something that
@MasterSteve
and I quickly put together at the end of 2018 and we set a date for it as soon as the New Year started.
It wasn't as thought out as I hope it would be. I personally learned a lot from the organizing part and I hope to improve the challenge if we ever do it again.
Now comes the juicy stuff.
The following tickers were traded since the beginning of Jan. 10th to today.
Kept it real simple. The setups were there for those tickers and so I took the appropriate trades.
How Much Did I Make in the Second Week?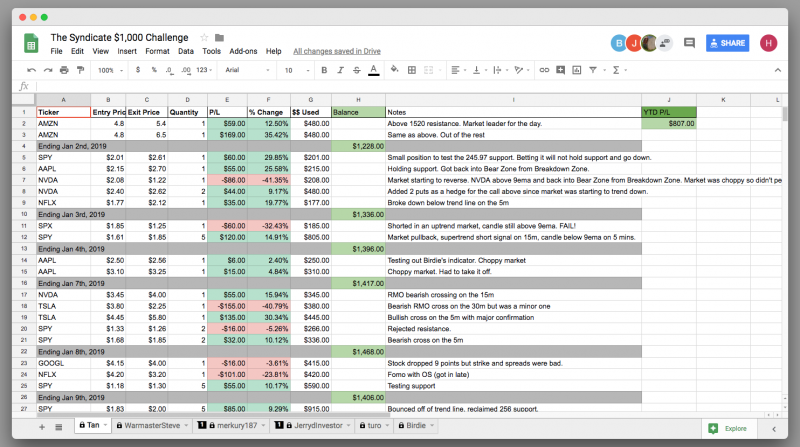 Last week I made about $600
. This week I made roughly about
$200
. I didn't make as much as the last week, however, there were no losers for this week! One of my goals was to be consistent.
Starting balance:
$1,000
Ending balance:
$1,807
Up
80.7%
since started.
To see my full trade logs, how much I made from each trades, and how the others who participated in the challenge were doing, you can check out our Google Sheet
here
.
Stay tuned for individual learning logs (I'll try to post them below this weekend).
P.S:
I'm using TastyWorks
as my broker of choice for day trading. They have an amazing support team, their platform is turbo fast, and they have the cheapest fees in the game. Definitely worth checking out.
Last edited: