Hi there. First, I want to say thank you to the community + BenTen for the awesomeness of contribution & improving my chart skills. That also includes the morning scans I do. Bellow, I would like to share what I do pre-market or opening market that I do try to catch a trend or big potentials.
* Scanning mornings looking for double inside bids (large accumulation bids)

* Large abnormal volume/bid shares

* %change

* Observing the chart for big bid indicators or possible insider buy catch

* Observing triple or quad teal blue-green light positive day market popular trend (leads to explosive growth such as BPTH, HUNT, GBR got incredibly good catching these).

* Helps hovering looking at the left column stocks turning yellow to blue/solid.

* Column left helps me catch yellow sigils for press release catch.

* Settings are set morning searches 10D5M to rest of the day observing at 1M analyzing direction where the charts are indicating.

* Tend to buy if the gap between SMA (as shown orange and blue lines) has strong momentum & trending, then most likely it's going to go up small or high.
Things I've noticed from catching fake trends, fake out, or aka false breakouts hopefully these may be useful to you folks:
*Large volume may be pouring in, but bid/asks are low. Someone or a group are buying 1 x shares consistently pre-market at a larger price than normal making appear it's trending.
* Large bids with no apparent explanation or PR (press release) possible pump/dump hype.

* Fake-outs bids are made on poor PR, again hype or possible pump & dump.
I've nearly broken even & sitting at $650 (started at $500). Using Webull cash account avoided the terrible confliction of day trading restriction, fees, or commission. Robinhood I've lost $250, but now above my losses at $150 positive.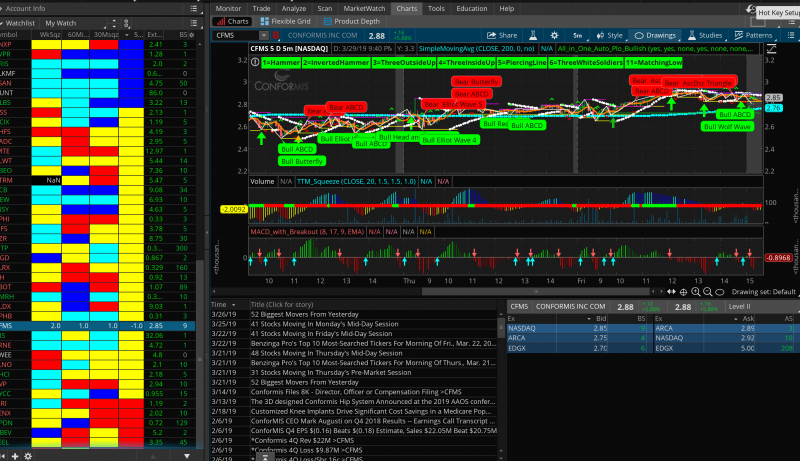 What can I do to improve? Or what am I doing right? What other features I could use that to constantly looking at multiple stocks or my left column colored squeeze bars?
Last edited: