Administrative
Staff member
Staff
VIP
Lifetime
This indicator consists of different candlestick patterns and reversal system, as explained by Franklin Ochoa in his book.
Wick Reversal System
Extreme Reversal System
Outside Reversal System
Doji Reversal System
I included the ability to turn off any of the reversal signals above within the indicator's setting. You can use this with the ToS scanner as well.
Note
: I could not incorporate the wick reversal system, so it's not part of the script. Credit goes to the original developer LonesomeTheBlue from TradingView.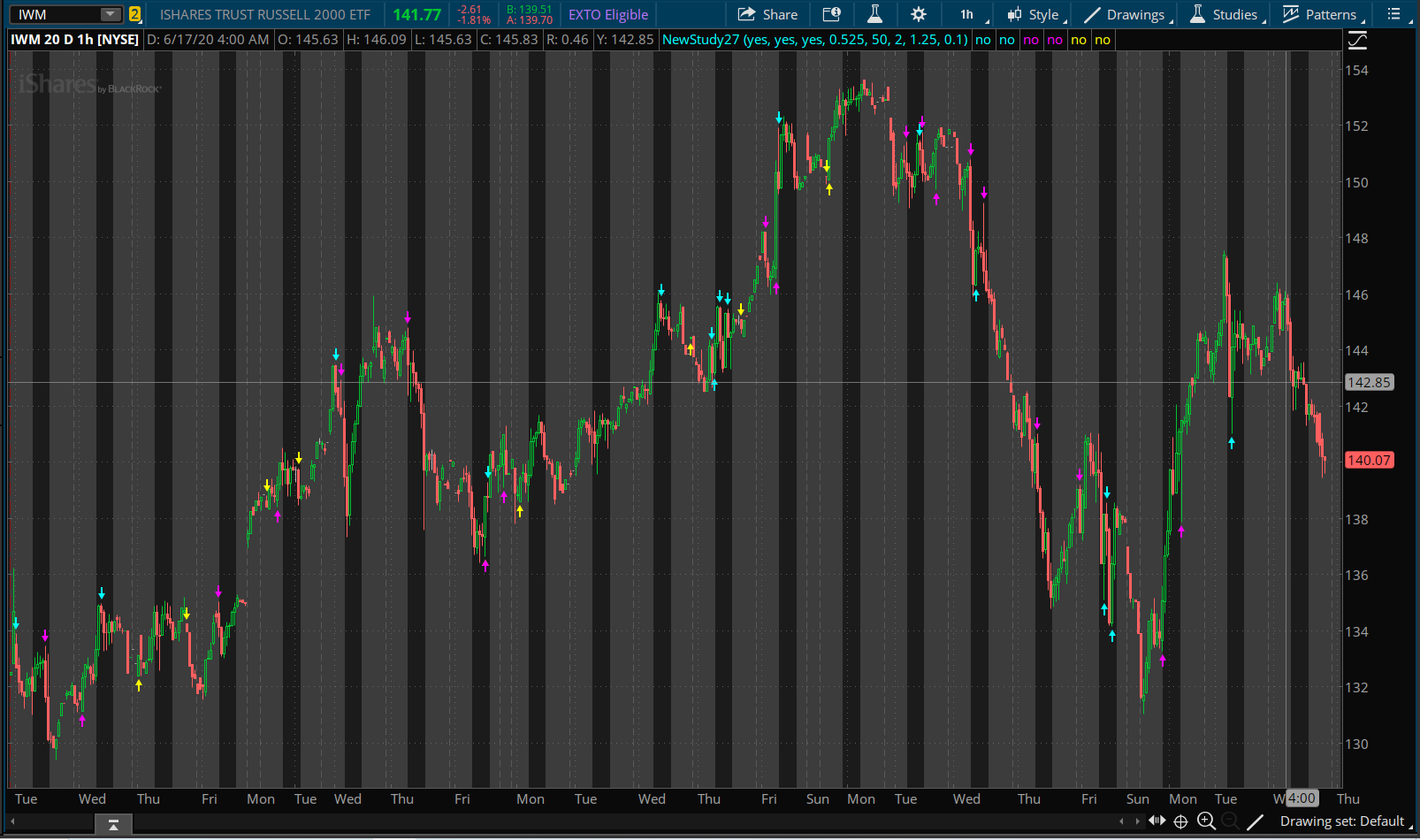 Code:
# Candlestick Reversal System
# Assembled by BenTen at useThinkScript.com
# Converted from https://www.tradingview.com/script/H5290fLn-Candlestick-Reversal-System/

input extreme_reversal = yes;
input outside_reversal = yes;
input doji_reversal = yes;

def O = open;
def C = close;
def H = high;
def L = low;

input bodysize = 0.525;
input barsback = 50;
input bodymultiplier = 2;

def mybodysize = absValue(C - O);
def AverageBody = simpleMovingAvg(mybodysize, barsback);
def mycandlesize = (H - L);
def AverageCandle = simpleMovingAvg(mycandlesize, barsback);

def Elongsignal = ((O[1] - C[1]) >= (bodysize * (H[1] - L[1]))) and ((H[1] - L[1]) > (AverageCandle * bodymultiplier)) and ((O[1] - C[1]) >  AverageBody) and (C > O);
def Eshortsignal = ((C[1] - O[1]) >= (bodysize * (H[1] - L[1]))) and ((H[1] - L[1]) > (AverageCandle * bodymultiplier)) and ((C[1] - O[1]) >  AverageBody) and (O > C);

input BarMultiplier = 1.25;

def AverageCandle1 = simpleMovingAvg(mycandlesize, BarsBack);

def Olongsignal = L < L[1] and C > H[1] and (H - L) >= AverageCandle1 * BarMultiplier;
def Oshortsignal = H > H[1] and C < L[1] and (H - L) >= AverageCandle1 * BarMultiplier;

input percentage = 0.1;

def frangehl = H[1] - L[1];
def frangeco = absValue(C[1] - O[1]);
def sma10 = simpleMovingAvg(close, 10);

def Dshortsignal = (frangeco <= frangehl * percentage and C < L[1] and L[1] > sma10 and C < O)  or (C < L[2] and C[1] >= L[2] and frangeco <= frangeco * percentage and C < O and L[2] > sma10);
def Dlongsignal = (frangeco <= frangehl * percentage and C > H[1] and H[1] < sma10 and C > O)  or (C > H[2] and C[1] <= H[2] and frangeco <= frangeco * percentage and C > O and H[2] < sma10);

plot bullish_extreme = if extreme_reversal then Elongsignal else double.nan;
plot bearish_extreme = if extreme_reversal then Eshortsignal else double.nan;

plot bullish_outside = if outside_reversal then Olongsignal else double.nan;
plot bearish_outside = if outside_reversal then Oshortsignal else double.nan;

plot bullish_doji = if doji_reversal then Dlongsignal else double.nan;
plot bearish_doji = if doji_reversal then Dshortsignal else double.nan;

bullish_extreme.SetPaintingStrategy(PaintingStrategy.BOOLEAN_ARROW_UP);
bullish_extreme.SetDefaultColor(Color.CYAN);
bullish_extreme.SetLineWeight(1);
bearish_extreme.SetPaintingStrategy(PaintingStrategy.BOOLEAN_ARROW_DOWN);
bearish_extreme.SetDefaultColor(Color.CYAN);
bearish_extreme.SetLineWeight(1);

bullish_outside.SetPaintingStrategy(PaintingStrategy.BOOLEAN_ARROW_UP);
bullish_outside.SetDefaultColor(Color.MAGENTA);
bullish_outside.SetLineWeight(1);
bearish_outside.SetPaintingStrategy(PaintingStrategy.BOOLEAN_ARROW_DOWN);
bearish_outside.SetDefaultColor(Color.MAGENTA);
bearish_outside.SetLineWeight(1);

bullish_doji.SetPaintingStrategy(PaintingStrategy.BOOLEAN_ARROW_UP);
bullish_doji.SetDefaultColor(Color.YELLOW);
bullish_doji.SetLineWeight(1);
bearish_doji.SetPaintingStrategy(PaintingStrategy.BOOLEAN_ARROW_DOWN);
bearish_doji.SetDefaultColor(Color.YELLOW);
bearish_doji.SetLineWeight(1);