Below is the chart setup for ThinkorSwim inspired by IBD (Investor's Business Daily) stocks chart. Also, a watchlist column and the Relative Strength (RS) indicator.
Updated 9-5-19
In this shared Google Drive are 2 files:
https://drive.google.com/drive/folders/13XOHAGuDNjx6k98U5VB8AL2TmQOjyQqS?usp=sharing
A file comparison of yesterdays IBD Relative Strength direct from IBD, along with a listing of what the watchlist code reads for the same security. If you follow the stocks in IBD's 85-85 list, my hope is that you would find most of them ranked above 70 in the watchlist column.
The picture is of the watchlist code on the right on my screen shot of the same NASDAQ 100.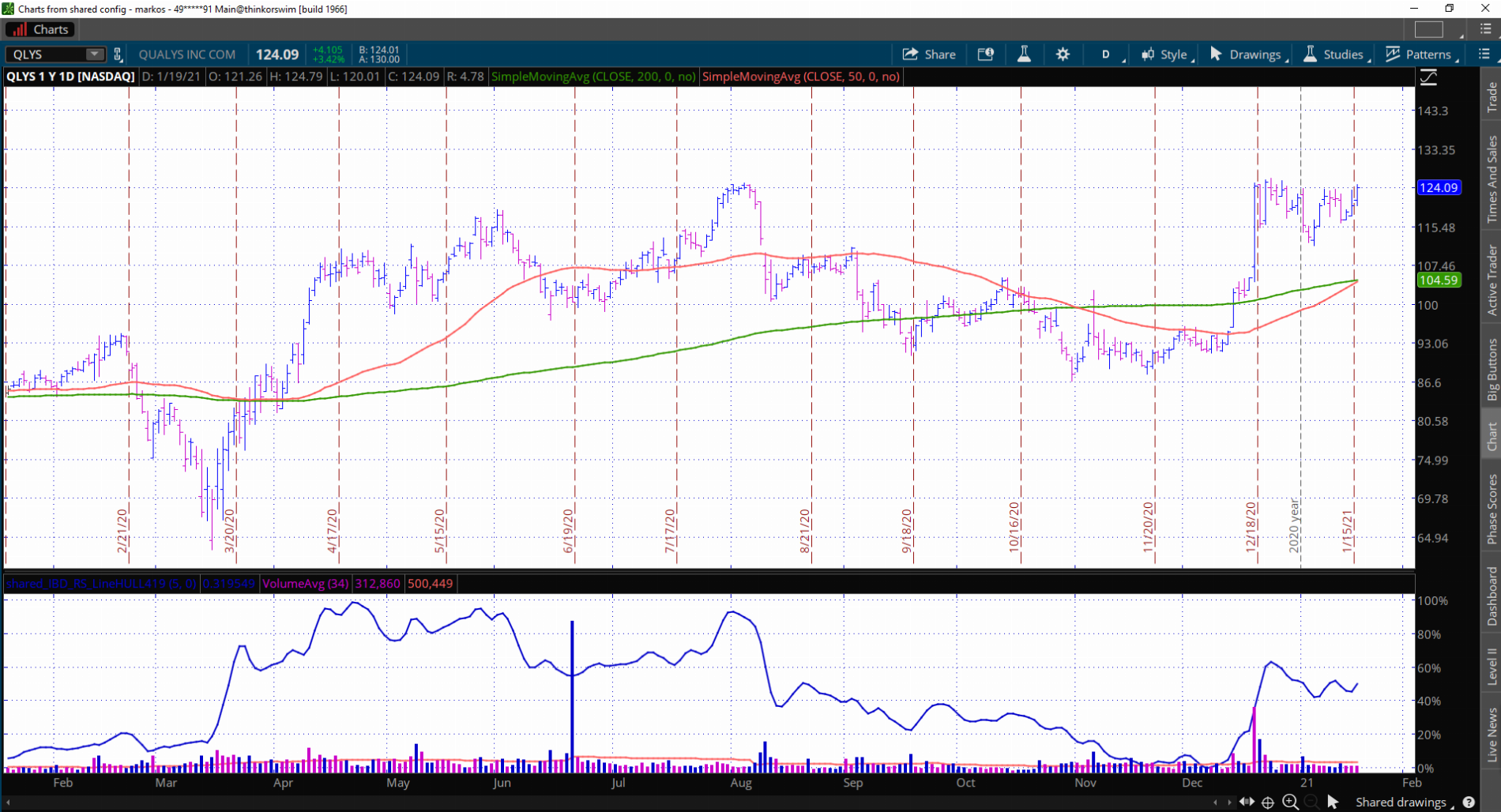 Here's the Code to put in a Custom Watch List Column:
Ruby:
#uTS Watchlist Code for %52WkRng
#Mobius© WLC Percent Inside 52 Week Range

def h = highest(high, 252);
def l = lowest(low, 252);
def x = (close - l) / (h - l);
plot r = round(x * 100, 0);
AssignBackgroundColor( if rs > 80 then color.dark_green else
                       if rs > 60 then createcolor(0,175,0) else
                       if rs > 40 then color.gray else
                       if rs > 20 then CreateColor(220, 0,0) else
                       if rs <= 20 then CreateColor(150, 0,0) else
                       color.white  );
Shared Watch List Link:
http://tos.mx/9VSRMyw
Click here for --> Easiest way to load shared links
Use whichever you would like!
Below is a scan that I came across that will pull the top 20% of Relative Strength stocks in a Scan of the S&P 500. After loading the scanned list, most were above the 75% line for the above chart's RS line. I also changed the inputs to 0 & 20 and the RS line on this chart was down on all on the list. I suggest scanning in S&P 100 or 500 to keep your list manageable. My thanks to Chris Baker.
Code:
# Scan - Price Rank in Range 80-100
# Edited by Markos to prove out scan for Relative Strength - Use is set for 1Yr-1Day Chart
# This Scan Tab study finds stocks whose price is in the given Price Rank (Price Percentile)
# in the given number of bars.
# By Chris Baker <[email protected]> @ChrisBaker97
# Latest version maintained at: https://bitbucket.org/ChrisBaker97/thinkscript/src/
# This thinkScript is designed for use in the Scan tab. Detailed
# instructions may be found at: https://bitbucket.org/ChrisBaker97/thinkscript/
#
# This work is licensed under the Creative Commons Attribution-ShareAlike
# 3.0 Unported License. To view a copy of this license, visit:
# http://creativecommons.org/licenses/by-sa/3.0/deed.en_US

#Start Code
input period = 252;
input prLo = 80;
input prHi = 100;

def hi = highest(high,period);
def lo =  lowest(low,period);
def range = hi - lo;

def priceRank = 100 * (open - lo) / range;

plot inRange = prLo <= priceRank and priceRank <= prHi;
#End Code
Grid chart
:
https://tos.mx/hfEeqh
Relative Strength (RS) Line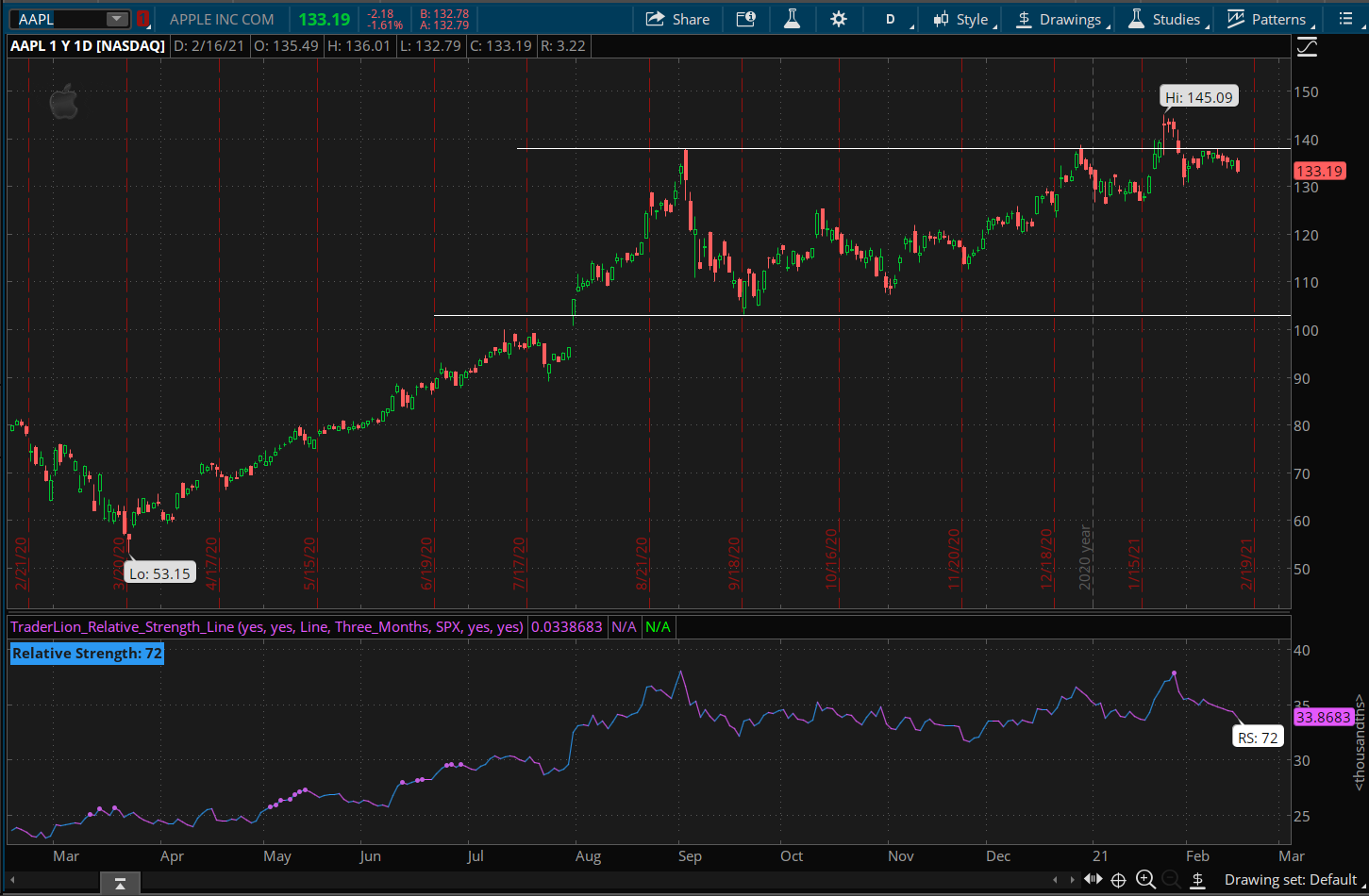 Code:
# Plot the Relative Strength Line in ThinkorSwim
# Written by: @Diamond_Stocks @RayTL_ - TLScripts
# Site:     https://www.traderlion.com/ https://www.traderlion.com/tl-scripts/
# V1

# Declare Lower Places a study on the lower subgraph. This declaration is used when your study uses values that are considerably lower or higher than price history or volume values.
declare lower;

# User Inputs
input show_RSNHBP = yes;
input show_RSNH = yes;

#Relative Strength Type - Candlestick to be added later.
input graphStyle = {default "Line"};

#3 Month, 6 Month, 1 Year RS
input TimeFrame = {default "Three_Months", "Six_Months", "1_Year"};

#Index SymbolRelation
input CorrelationWithSecurity = "SPX";

#Calculation TimeFrame
def aggregationperiod = AggregationPeriod.DAY;

#Chart Normalized Relative Strength Rating on Last Bar
def isLastBar = BarNumber() == HighestAll(if !IsNaN(close) then BarNumber() else Double.NaN);

#Turn on or off Alerts when cycling charts
input Alerts_On = yes;

#Add Chart Bubbble to Graph
input RS_Rating_ChartBubble = yes;

#Establish look back length:
def Length = if TimeFrame == TimeFrame.Three_Months then 63 else if TimeFrame == TimeFrame.Six_Months then 126 else 252;

#Get Index Close/Open/High/Low - Prep for Candlestick RS.
def indexopen = open(CorrelationWithSecurity, aggregationperiod);
def indexhigh = high(CorrelationWithSecurity, aggregationperiod);
def indexlow = low(CorrelationWithSecurity, aggregationperiod);
def indexclose = close(CorrelationWithSecurity, aggregationperiod);

#Get Relative Strength - Prep for Candlestick RS.
def RSopen = open / indexopen;
def RShigh = high / indexhigh;
def RSlow = low / indexlow;
def RSclose = close / indexclose;

def barCount = IF !IsNaN(close) THEN IF IsNaN(barCount[1]) THEN 1 ELSE barCount[1] + 1 ELSE barCount[1];

#Normalize Relative Strength
def newRngMax = 99; #Maximum normalized value
def newRngMin = 1; #Minimum normalized value

def HHDataclose = HighestAll(RSclose);
def LLDataclose = LowestAll(RSclose);
def HHDataopen = HighestAll(RSopen);
def LLDataopen = LowestAll(RSopen);
def HHDatalow = HighestAll(RSlow);
def LLDatalow = LowestAll(RSlow);
def HHDatahigh = HighestAll(RShigh);
def LLDatahigh = LowestAll(RShigh);

def normalizeRSclose = ((( newRngMax - newRngMin ) * ( RSclose - LLDataclose )) / ( HHDataclose - LLDataclose )) + newRngMin;
def normalizeRSopen = ((( newRngMax - newRngMin ) * ( RSopen - LLDataopen )) / ( HHDataopen - LLDataopen )) + newRngMin;
def normalizeRShigh = ((( newRngMax - newRngMin ) * ( RShigh - LLDatahigh )) / ( HHDatahigh - LLDatahigh )) + newRngMin;
def normalizeRSlow = ((( newRngMax - newRngMin ) * ( RSlow - LLDatalow )) / ( HHDatalow - LLDatalow )) + newRngMin;

#Chart RS Line and set appearence:
plot RSLine = RSclose;
RSLine.DefineColor("Positive", Color.UPTICK);
RSLine.DefineColor("Negative", Color.DOWNTICK);
RSLine.SetLineWeight(1);
RSLine.AssignValueColor(if RSLine[0] > RSLine[1] then CreateColor(43, 152, 242) else CreateColor(227, 88, 251));

#Get Highest RS Value
def highestRS = Highest(RSclose, Length);

#RSNHBPCondition
def RSNHBPcondition = if RSclose >= highestRS and close < Highest(close, Length) then highestRS else no;

#Plot RSNHBP Condition
plot RSNHBP = if show_RSNHBP and RSNHBPcondition == highestRS then highestRS else Double.NaN;

#Plot RSNH Condition
plot RSNH = if show_RSNH and RSNHBPcondition == no and RSclose == highestRS and isLastBar then highestRS else Double.NaN;

#Appearance Settings
RSNHBP.SetPaintingStrategy(PaintingStrategy.POINTS);
RSNHBP.SetLineWeight(2);
RSNHBP.SetDefaultColor(CreateColor(196, 94, 225));
RSNHBP.HideBubble();
RSNH.SetPaintingStrategy(PaintingStrategy.POINTS);
RSNH.SetDefaultColor(Color.GREEN);
RSNH.SetLineWeight(2);
RSNH.HideBubble();

#Add Chart Bubble for RS Rating
AddChartBubble(RS_Rating_ChartBubble and isLastBar, RSclose, "RS: " + Round(normalizeRSclose, 0),  Color.WHITE, no);

#Add Label
AddLabel(yes, Concat("Relative Strength: ", Round(normalizeRSclose, 0)), CreateColor(43, 152, 242));

#Alert Capability
Alert( if Alerts_On and RSNHBP then yes else no, "Relative Strength Line New Highs Before Price", Alert.BAR, Sound.Ding);
Alert(if Alerts_On and RSNH then yes else no, "Relative Strength Line New Highs", Alert.BAR, Sound.Chimes);
Last edited by a moderator: