Been testing TOS for a couple of days and decided to post something here too ...
A simple indicator with a possible way to filter out the signals from a single average
Usually if a single average is used for trading decisions, the slope of an average is used for that. That has its problems - mainly that most of the averages are not smooth. This is one possible way to avoid that trap.
The indicator is using floating levels to determine the "significance" for average value change and then, based on that, shows :
It uses the usual set of averages types and should not be difficult to use it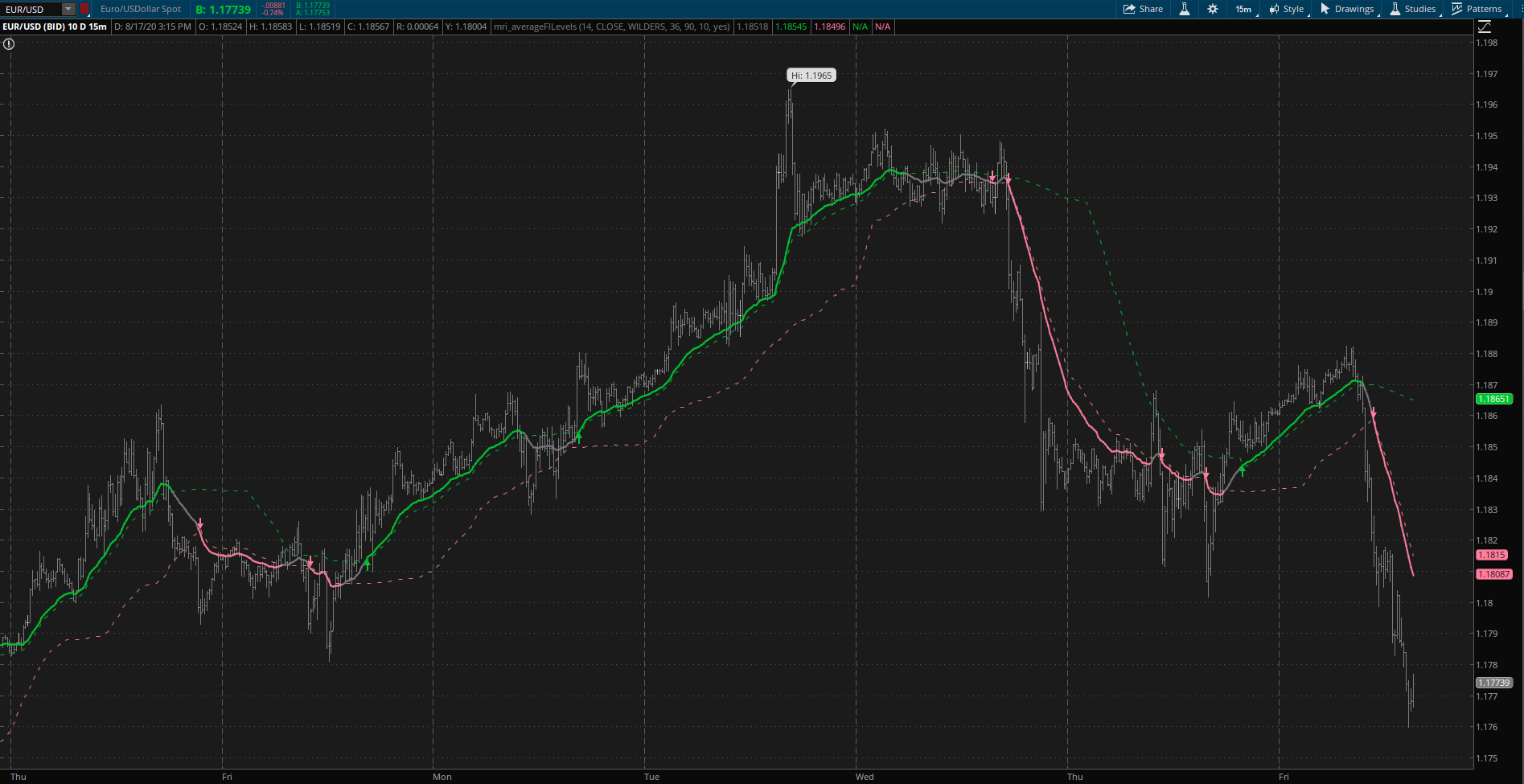 Code:
#-----------------------------------------------------------------------------------------
#
#-----------------------------------------------------------------------------------------
#     © mladen 2020
#     [email protected]
#

input averagePeriod     = 14;
input averagePrice      = close;
input averageType       = AverageType.SMA;
input levelsPeriod      = 35;
input levelsUpPercent   = 90;
input levelsDownPercent = 10;
input showSignals       = yes;

#

plot average = MovingAverage(averageType, averagePrice, averagePeriod);
        def minAverage = Lowest(average, Max(levelsPeriod, 1));
        def maxAverage = Highest(average, Max(levelsPeriod, 1));
plot levelUp   = minAverage + (maxAverage - minAverage) * levelsUpPercent / 100.0;
plot levelDown = minAverage + (maxAverage - minAverage) * levelsDownPercent / 100.0;

average.SetLineWeight(2);
average.DefineColor("up", GetColor(6));
average.DefineColor("neutral", GetColor(7));
average.DefineColor("down", GetColor(2));
average.AssignValueColor(if average > levelUp then average.Color("up") else if average < levelDown then average.Color("down") else average.Color("neutral"));

levelUp.SetDefaultColor(GetColor(6));
levelDown.SetDefaultColor(GetColor(2));
levelUp.SetStyle(Curve.SHORT_DASH);
levelDown.SetStyle(Curve.SHORT_DASH);

plot upSignalCross   = if average crosses above levelUp then levelUp else Double.NaN;
     upSignalCross.SetHiding(!showSignals);
     upSignalCross.SetDefaultColor(GetColor(6));
     upSignalCross.SetPaintingStrategy(PaintingStrategy.ARROW_UP);
     upSignalCross.HideBubble();
plot downSignalCross = if average crosses below levelDown then levelDown else Double.NaN;
     downSignalCross.SetHiding(!showSignals);
     downSignalCross.SetDefaultColor(GetColor(2));
     downSignalCross.SetPaintingStrategy(PaintingStrategy.ARROW_DOWN);
     downSignalCross.HideBubble();
Last edited by a moderator: