Hi all,
I am Looking to see if someone can please write a code for the prior high and low and the 50% level of the previous candle to be put in a tab in the upper left corner of the chart that can be colored.
The first column should be the High of the previous candle, the middle column should be the 50% of the previous candle and the third column should be the previous candles low.
Here is a link to a picture of what I am looking for: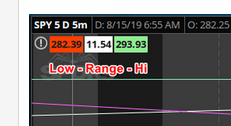 Thank you for any help on this..
Last edited by a moderator: