I found this indicator on Youtube. I think it works great for intraday, although after hours and pre market data need to be turned off. It has SPX, NQ, and Rut. I use RUT since I trade IWM.
Mood Indicator:
https://tos.mx/sar7r4I
I was wondering if anyone can help write a code within this indicator, that will mark down when it switches market phases. Those coloured rectangles were manually drawn by me to mark down where the market phases were.
The market phases within the indicator is based on Market cycle of Accumulation, Mark up, Distribution and Mark down. The ideal cycle looks like this: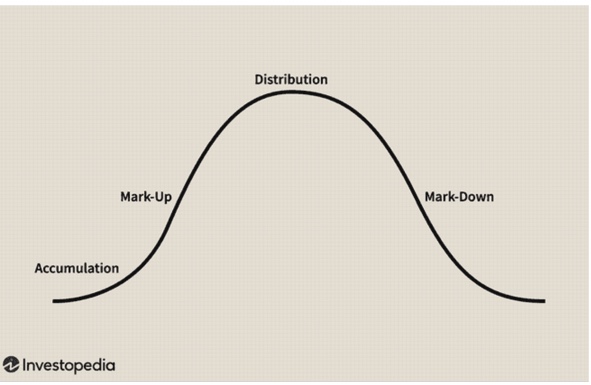 Today the distribution phase on IWM was below the mark up phase, and the Markdown phase took out the morning lows during the accumulation phase. So, not the ideal cycle as shown in the picture. I just need this indicator to plot on the chart when it changes phases, like an arrow or a bubble. I have not used the options recommendation, although the indicator will recommend Iron Condors during Accumulation and Distribution phases, 0dte.
Last edited by a moderator: