Heya there,
Looking to see if anyone knows how to remove the Leading Zero from a Double inside of a watchlist.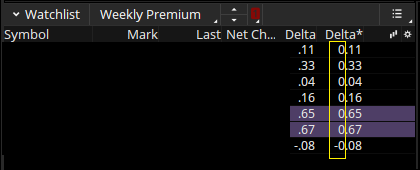 I've looked through ToS Learning Center, and they state it IS possible to do it,
they do so "oh matter of factly", but never tell you how to do it or code it.
https://tlc.thinkorswim.com/center/reference/thinkScript/Data-Types/double
Above is the link to ToS where they say you can do it.
They're Delta Quote does it automatically,
But if I make a Custom Quote, it tags on the leading 0 by default.
I've tried Round(optionDelta, 0) type coding and it doesn't work.
Thanks in advance