BenTen
Administrative
Staff
VIP
Warehouse
Day trading or scalping can be fairly stressful especially when the stock is moving the opposite direction of your position. To reduce this problem, I decided to look into swing trading. This way I do not have to monitor my position minutes by minutes. This does not necessarily mean I won't look at charts every once in a while. I have to check to see if certain key levels have been broken or not. Usually, this means I'll be taking profit or I'll be cutting my losses.
If you're in our
trading chatroom
or
following me on Twitter
, you know that I have been sharing my entry and exit on these swing trades. Hopefully, you were able to take advantage of them.
Here is my P/L after 2 weeks and half.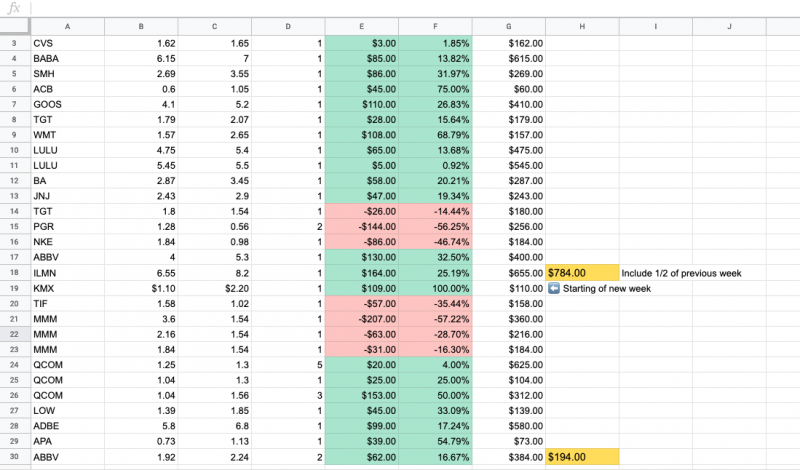 Key Info:
- Number of trades: 30 (23 winners / 7 losers)

- Win rate: 76.7%

- Average price paid per options: $290.80

- Total Profit: $978.00
Not too bad for a 2 1/2 week of swing trading.
How Did I Do It?
I like to be as transparent as possible. I didn't use any special indicators to find these swing trades. In fact, all of them have already been shared here. Be sure to
check out our Indicators section
.
Key Indicators Used
- DMI (Directional Movement Index)

- Support / Resistance

- Moving Averages
The process goes something like this:
1. Scanning for Potential Stocks
I like to get in at the bottom or the top, usually when momentum indicators like the MACD w/ Breakout Signals, RMO, or DMI is indicating that there is a change in trend. I have a few scanners setup for those that I go over to find potential reversal. Not all tickers will make it to the list.
<LIST start="2" type="decimal"][*]2. Drawing S/R
[/LIST]
Once I pull up the potential stocks, I like to look at them on a naked chart. This way I can easily draw support and resistance without all the noises given by other indicators.
<LIST start="3" type="decimal"][*]3. More filtering
[/LIST]
Since I scan stocks that are in the SP 500, there will be a lot of stocks that come out of these scanners. I won't be able to monitor or trade them all. What I do is pick the one that looks like they're about to move one way or the other.
Indicators like DMI Oscillator, MACD, and Moving Averages can be a great help in this situation.
Outstanding Trades
Here are some of the trades I took over the past 2 weeks that demonstrates my trading swing trading strategy.
ACB (Aurora Cannabis Inc)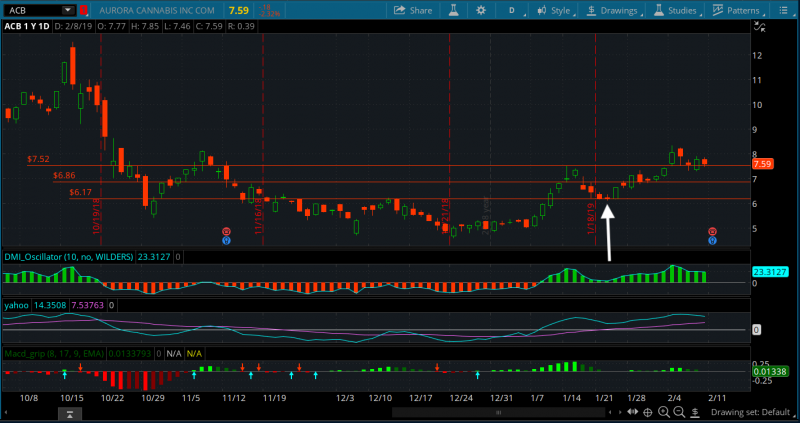 $6.17 was a critical point for ACB. Either we hold it as support or start breaking down. Switched over the 15min and I found that it dropped below the support line for a bit and then came back right up. Thought it doesn't want to go lower so I'm expecting a bounce within the next day.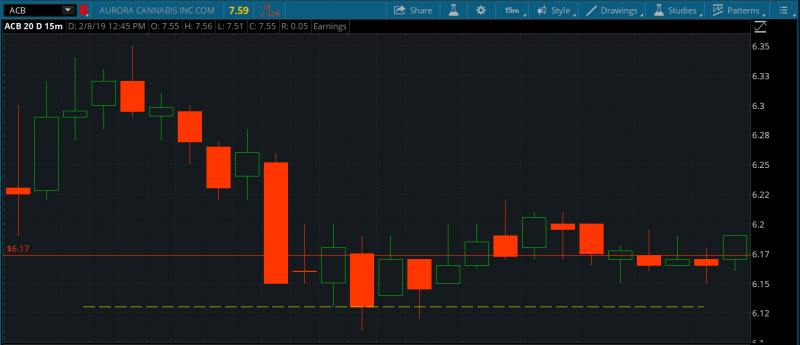 APA (Apache)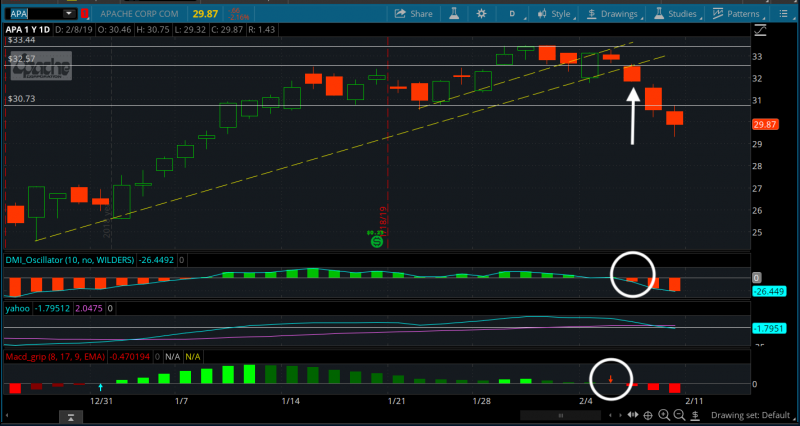 Broke down below trend line and support, DMI going to negative side with MACD doing the same thing since the previous day.
QCOM (Qualcomm)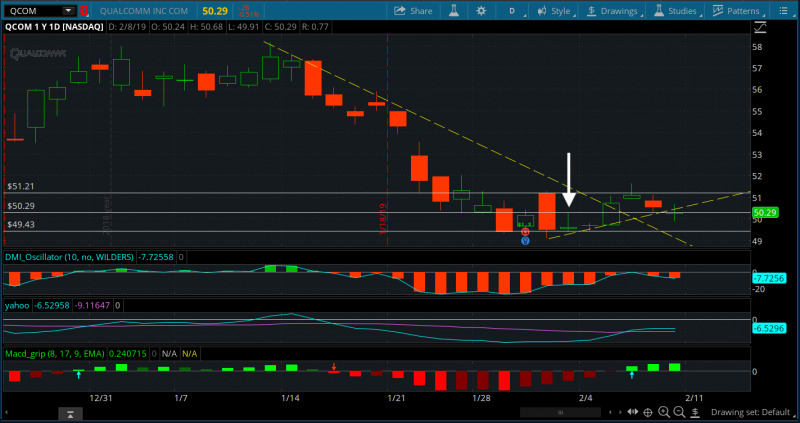 Sell-off after ER (they beat btw), at critical support point. Momentum indicators pointing at oversold.
KMX (Carmax)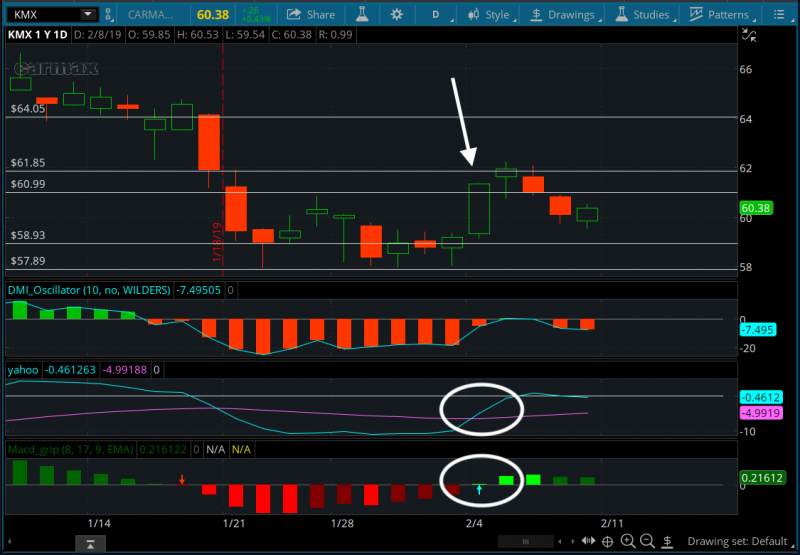 Got in when the stock broke above resistance with MACD breakout in bull zone. Also, RMO was pointing up.
ABBV (AbbVie Inc.)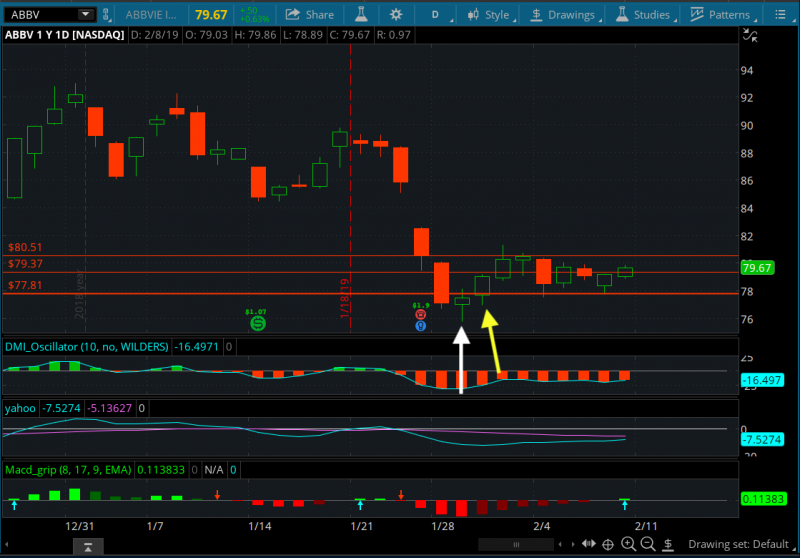 Huge selloff after ER. This was a risky move as I didn't wait until we get back above support zone. I should of waited and get in on the next day as we reclaim a critical support line (yellow arrow).
As you can see, a lot of these stocks were either oversold or overbought. I entered into the trade mostly based on support and resistance on the daily. with the momentum confirming my trade.
There were a few bad trades during the past 2 weeks and they definitely cost me some money. I went back and found that they were in the middle instead of being overbought or oversold. I need to filter out these stocks and let them run into either direction first before shorting or going long.
v0.2
Starting Monday, my setup will be slightly different.
I'll be focusing on the Daily and Hourly charts. Going to use the Daily to find potential reversal plays and Hourly for entry.
Daily Charts Will Include:
- MACD with Breakout Signal

- RMO

- Moving Averages (50, 100, and 200)

- Stochastic Slow
Hourly Charts Will Include:
- Moving Averages (5 and 10)

- DMI
These Indicators will always lag behind. Support/Resistance and price action remain our top pointers to buy and sell.
I'll see yall again tomorrow with a few stocks I'm watching for next week.
Last edited: